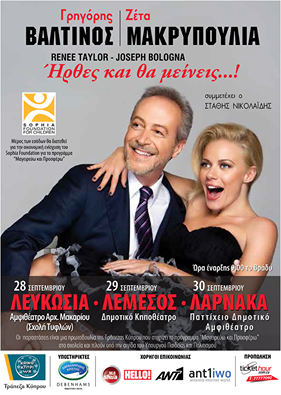 The two famous actors Gregory Valtinos and Zeta Makripoulia support the program "I Cook and I Offer" of Sophia, with the theater Play "You came and you will stay."
28/9 NICOSIA,  29/9  LIMASSOL,   30/9 LARNACA
Tickets: www.tickethour.com.cy, Shops ACS, Mall of Cyprus at Sophia Foundation Stand, and Larnaca ticket office of Patticheio Municipal Theatre.
On September 25 the two actors will cook together with the mums lunch for the children of Eleneio elementary school.
We thank them from the heart.
For more information about the performances you can contact us by phone 70,000,787.